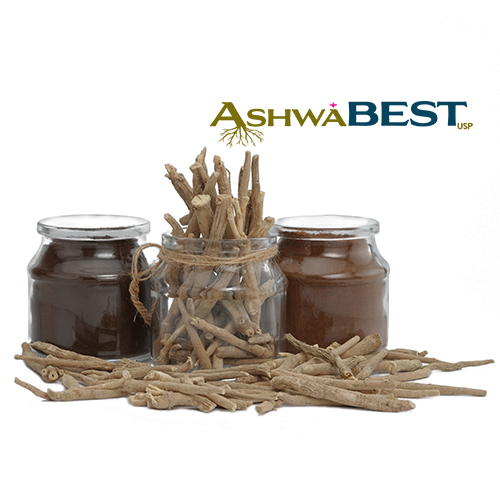 Akay Bioactives
AshwaBEST ™
Moulded classically, developed scientifically 
AshwaBEST ™ is the uniquely standardized ashwagandha extract based on the USP method of analysis to make sure the correct & efficient dosage of withanolides and withano glycosides in small dosages like 100 or 150 mg x 2/day using proprietary technology. Many ashwagandha extracts were shown to provide low withanolides (even as low as 50 times) against their label claims and are adulterated with leaves though claims as a root-only extract.
What is AshwaBEST ™?
Standardized ashwagandha extract
Akay is combining traditional Ayurveda with the most modern evidence-based scientific research to offer the ayurvedic solution in a scientific way. Akay offers a range of clean and safe 'uniquely standardized extracts' of ashwagandha, under the brand AshwaBEST TM - ashwagandha extract standardized to 1-10% withanolides using the USP-HPLC method.
Our MaXFLOW technology of granulation confirms the regular tiny particle size with minimum hygroscopicity, maximum density and free flow. AshwaBEST TM supports maximum efficacy at low dosages because of our ActiLOCK TM standardization workflow, for the key bioactive, in addition to full-spectrum.
Responsible selection of best roots directly from farmers
Sustainable practices with more than 25 years of industry experience
Full scan traceability from farm to finished products
Holistic extracts with HPTLC and HPLC profiles
Correctly standardized 100% root-only extracts
Authentic third-party validated USP-HPLC extracts
Organic certified extract available on request
Want to know more about AshwaBest ™