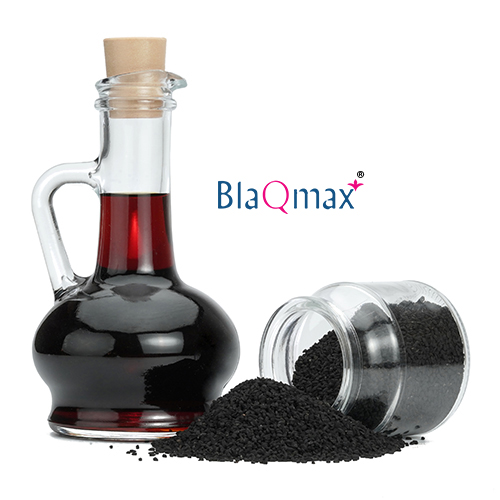 Spiceuticals
BlaQmax ®
Patented natural sleep support
Thymoquinone rich standardized extract of Nigella sativa seeds, clinically validated for anxiety, stress and sleep disorder without affecting memory at a low dosage of 100-200mg /day.
What is BlaQmax®
Standardized black seed extract
We all know that sleep is necessary for our physical and mental health, but very few know how important it really is. 35% of adults don't get enough sleep (7 hours per day) according to the CDC. Black cumin seeds or its most commonly consumed cold-pressed oil is not having the sleep-inducing property, but BlaQmax™ possess! BlaQmax™ can be offered in both oil as well as in powder form making it best suitable for capsules, tablets, soft gels, sachets, instant drinks and other functional food & beverage applications. Black cumin oil is known for its wide health benefits, as it provides a unique solution for the management of hypertension, diabetes, cholesterol, bodyweight, thyroid functions, immunity and inflammation.
Standardized for high thymoquinone

Improves sleep quality

Reduces sleep latancy

Anti-hypertensive

Support healthy brain functions

Anxiolytic

Anti-stress

Relaxing & memory
Research Behind BlaQmax®
BlaQmax ® is a 100% natural, solvent free ingredient developed by Akay's innovation team-clinically validated as a natural sleep aid and for stress and anxiety. The safety, efficacy, and mechanism of action in the body are studied in detail by animal and human studies. This innovative product can be offered in powder and oil form enabling it to be used in different applications like softgels, capsules, sachets etc
Want to know more about BlaQmax®