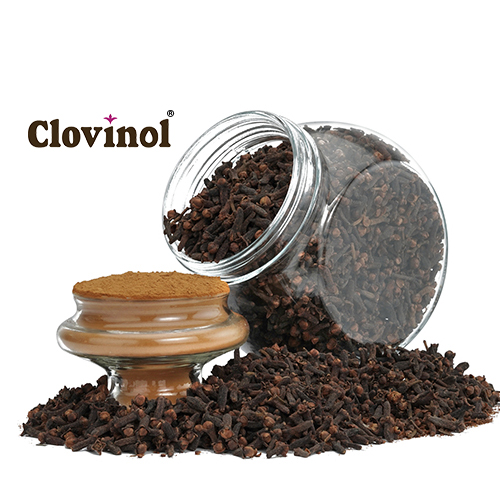 Spiceuticals
Clovinol ®
Clinically proven hepatoprotection & detoxification
100% natural proprietary formulation from clove buds. Clove, a GRAS listed kitchen spice, is known as the mother of antioxidants, as it has got higher ORAC values compared to many berries.
What is Clovinol ®
Polyphenol-rich clove extract
Clovinol ® is a polyphenol-rich water-soluble powder developed through the hydroethanolic extraction of clove buds. It is clinically proven for its natural detoxification property, as it helps in eliminating the acetaldehyde content by three times from the human body and helps to enhance the glutathione levels naturally (150%), at a low dosage of 250 mg per day. This formulation also has strong blood glucose management and anti-ulcer properties. This ingredient is suitable for capsules, tablets, sachets, liquid shots and other functional food & beverage applications.
Establishes 'intracellular redox homeostasis'
Helps to establish 'balanced glucose metabolism'
Lowers postprandial blood glucose hike & helps pre-diabetics
Supports 'lipid metabolism'
Elevates glutathione' naturally
Activates 'primary antioxidant defence'
An efficient 'detoxifier & liver protective'

Helps to reduce 'alcohol side effects & hangover'
2.5X faster elimination of Acetaldehyde
Want to know more about Clovinol ®