Blog | 2-Sep-2021
Little bitterness for a healthy life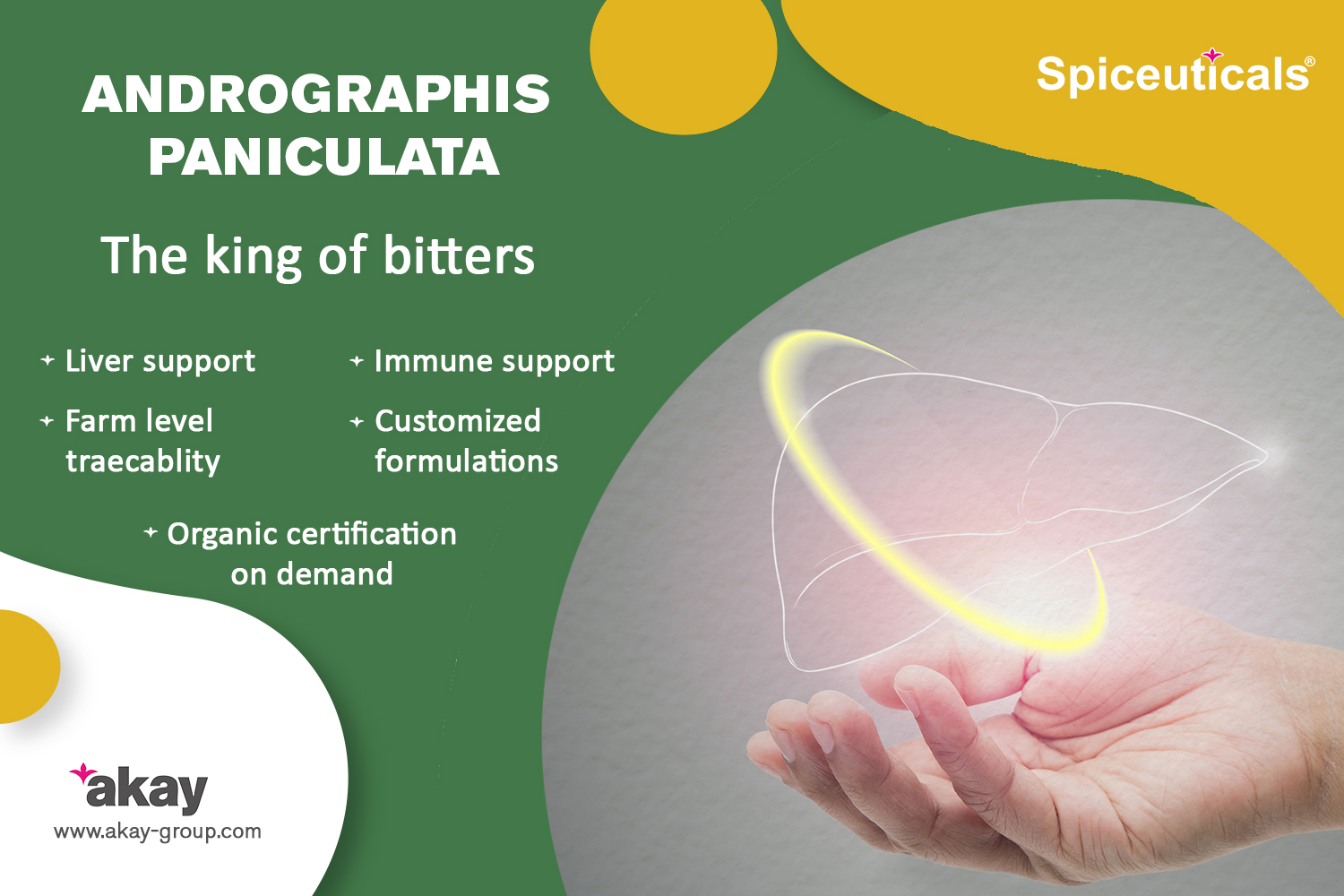 Little bitterness for a healthy life
Andrographis paniculata (Burm.f) Nees or Kaalmegh – also known as 'Indian Echinacea' is a miracle herb from the family Acanthaceae. It is considered as the king of bitters and widely using in Indian, Chinese and Arab systems of medicine. Many references for its immuno-modulatory, hepatoprotective, anti-viral, and anti-diabetic actions can be found throughout in various classics. A number of multiherbal formulations with Andrographis as one of the essential component have been developed and registered for use by physicians and naturopathists throughout the world.
Some of the key medicinal and health beneficial effects of Andrographis, as established by modern clinical and preclinical studies, includes -
A safe adjuvant for the maintenance of Gut & Liver health. As per the Chinese traditional systems, Gut-Liver axis is one of the most important factor to be balanced for an optimum health. The same has been narrated in Ayurvedic classics also.

It is a natural antipyretic which can remarkably support to reduce fever, and soothes cough and cold (Flu & Common cold)

It supports to ameliorate respiratory infections and allergy

It can stimulate bile flow and helps digestion

It can prevent fatty changes in the liver and may support against NAFLD

It can boost the natural host defense mechanism and support balanced immunity.

It is hypoglycemic and helps to manage diabetics
In short, Andrographis is considered as an 'all body nourishing herb' as per the Ayurvedic wisdom. This is why Andrographis has become the point of interest for modern research and nutraceutical applications.
The major biomolecules found in the herb is a group of diterpenes lactones in which Andrographalide is the major one. Andrographis and its extracts have been clinically studied for different health conditions. A study published in the Journal of Phytotherapy Research. 2019 May;33(5):1469-1479 claims that their standardized extract of Andrographis is effective in reducing the joint pain among individuals with mild to moderate knee Osteoarthritis Another randomized control trial published on Journal of the Medical Association of Thailand.2015 Jul;98 Suppl 6: S41-7 mentioned that Andrographis extract can be used as an alternative medicine for treating hypertriglyceridemic patients. A study published on Journal of Ayurveda and Integrative Medicine, Volume 11, Issue 3, July–September 2020, Pages 329-335 mentions that Nilavembu kudineer (in which Andrographis is a major component) exhibits significant antiviral properties. In India, andrographis has been widely used as a prophylactic against chikungunya and dengue virus infections.
Akay, has mastered this herb in the creation of various unique extracts in colorless and green colour form, following our Nature to NutraceuticalsTM traceability and sustainability program. We use our proprietary XteraluteTM extraction technology and MaxFlowTM beadlet tech to produce hygroscopicity managed, tablet grade extracts standardized for various markers following USP-HPLC method.
Generic grades are: 10 to 50% andrographolides
Please contact us and discuss with our R&D to customize your extracts. We can also support in formulations and synergistic combinations.
Rush to us for your customization and spec-locking with us.
Reference
1. Sa-Ngiamsuntorn K, Suksatu A, Pewkliang Y, et al. Anti-SARS-CoV-2 Activity of Andrographis paniculata Extract and Its Major Component Andrographolide in Human Lung Epithelial Cells and Cytotoxicity Evaluation in Major Organ Cell Representatives. J Nat Prod. 2021;84(4):1261-1270. doi:10.1021/acs.jnatprod.0c01324.
(This study provided experimental evidence in favor of A. paniculata and andrographolide for further development as a monotherapy or in combination with other effective drugs against SARS-CoV-2 infection.)
2. Enmozhi SK, Raja K, Sebastine I, Joseph J. Andrographolide as a potential inhibitor of SARS-CoV-2 main protease: an in silico approach. J Biomol Struct Dyn. 2021;39(9):3092-3098. doi:10.1080/07391102.2020.1760136
In silico approach- This paper evaluates the compound Andrographolide from Andrographis paniculata as a potential inhibitor of the main protease of SARS-COV-2 (Mpro) through in silico studies such as molecular docking, target analysis, toxicity prediction and ADME prediction. Andrographolide was docked successfully in the binding site of SARS-CoV-2 Mpro. Computational approaches also predicts this molecule to have good solubility, pharmacodynamics property and target accuracy)
3. Kulthanit Wanaratna, Pornvimol Leethong, Nitapha Inchai, Wararath Chueawiang, Pantitra Sriraksa, Anutida Tabmee, Sayomporn Sirinavin. Efficacy and safety of Andrographis paniculata extract in patients with mild COVID-19: A randomized controlled trial medRxiv 2021.07.08.21259912; doi: https://doi.org/10.1101/2021.07.08.21259912
(This clinical trial with Andrographis Paniculata-extract treatment regimen was potentially effective and safe in adults with mild COVID-19. But, further studies are recommended for validation)
4. Dai, Y., Chen, S.-R., Chai, L., Zhao, J., Wang, Y., & Wang, Y. (2018). Overview of Pharmacological Activities of Andrographis paniculata and its Major Compound Andrographolide. Critical Reviews in Food Science and Nutrition, 1–42. doi:10.1080/10408398.2018.1501657
(Andrographolide sulfonate, a water-soluble form, exhibits significant inhibition on acute lung injury induced by LPS in mice with 1 to 10 mg/kg of concentration (Peng et al. 2016). Its mechanism of action occurs through the inhibition of air inflammatory cell recruitment and lung injury and reduction of protein and mRNA levels of pro-inflammatory cytokines in serum and bronchoalveolar lavage fluid by activating the MAPK and p65 signalling pathways)
5. Rajagopal K, Varakumar P, Baliwada A, Byran G. Activity of phytochemical constituents of Curcuma longa (turmeric) and Andrographis paniculata against coronavirus (COVID-19): an in-silico approach. Futur J Pharm Sci. 2020;6(1):104. doi: 10.1186/s43094-020-00126-x. Epub 2020 Oct 16. PMID: 33215042; PMCID: PMC7562761.
(The chemical constituents from turmeric like cyclocurcumin and curcumin and from Andrographis paniculata like andrographolide and dihydroxy dimethoxy flavone, significantly binding with the active site of SARS CoV-2 main protease, may produce significant activity and be useful for further development.)
6. Saxena RC, Singh R, Kumar P, Yadav SC, Negi MP, Saxena VS, Joshua AJ, Vijayabalaji V, Goudar KS, Venkateshwarlu K, Amit A. A randomized double blind placebo controlled clinical evaluation of extract of Andrographis paniculata (KalmCold) in patients with uncomplicated upper respiratory tract infection. Phytomedicine. 2010 Mar;17(3-4):178-85. doi: 10.1016/j.phymed.2009.12.001. Epub 2010 Jan 25. PMID: 20092985.
(The findings of this clinical study revealed that KalmCold (Andrographis paniculate) was effective in reducing symptoms of upper respiratory tract infection)
7. Wagner L, Cramer H, Klose P, Lauche R, Gass F, Dobos G, Langhorst J. Herbal Medicine for Cough: a Systematic Review and Meta-Analysis. Forsch Komplementmed. 2015;22(6):359-68. doi: 10.1159/000442111. Epub 2015 Dec 14. PMID: 26840418.
(Review paper- This review found strong evidence for A. paniculata and ivy/primrose/thyme-based preparations are significantly superior to placebo in alleviating the frequency and severity of patients' cough symptoms. Additional research, including other herbal treatments, is needed in this area.)
8. Verma, Ravindra & Misra², Vaibhav & Tiwari³, Dileep & Bisen, Prakash. (2020). Potential of Selected Indian Herbs for COVID-19. 10.2174/2215083806999201125122620.
(Some herbs like Ocimum tenuiflorum (Tulsi), Glycyrrhiza glabra (Liquorice), Curcuma domestica Vahl (Turmeric), Tinospora cordifolia (Giloy), Withania somnifera (Ashwagandha), Cinnamon (Dalchini), Shoot of Triticumaestivum Linn. (Wheatgrass), Andrographis paniculata (Kalmegh), can help in boosting immunity for COVID-19 disease)
9. Rehan Mohd, Ahmed Firoz, Howladar Saad M., Refai Mohammed Y., Baeissa Hanadi M., Zughaibi Torki A., Kedwa Khalid Mohammed, Jamal Mohammad Sarwar. A Computational Approach Identified Andrographolide as a Potential Drug for Suppressing COVID-19-Induced Cytokine Storm. Frontiers in Immunology, Volume 12, 2021, Pages 2343.
(Our study suggests that andrographolide could bind with TNF and NFkB1 proteins, block TNF-induced cytokine storm in COVID-19 patients, and warrant further experimental validation.)
10. Banerjee S, Kar A, Mukherjee PK, Haldar PK, Sharma N, Katiyar CK. Immunoprotective potential of Ayurvedic herb Kalmegh (Andrographis paniculata) against respiratory viral infections - LC-MS/MS and network pharmacology analysis. Phytochem Anal. 2021 Jul;32(4):629-639. doi: 10.1002/pca.3011. Epub 2020 Nov 9. PMID: 33167083.
(The results suggest a synergy between andrographolide and other molecules identified as safe and efficacious anti-inflammatory agent having effects on upper respiratory tract infections and can significantly decrease the production of cytokines and pro-inflammatory factors in viral infections.)