Blog | 23-Jul-2021
Evolution of Dietary Trends and Reformed Consumer Behavior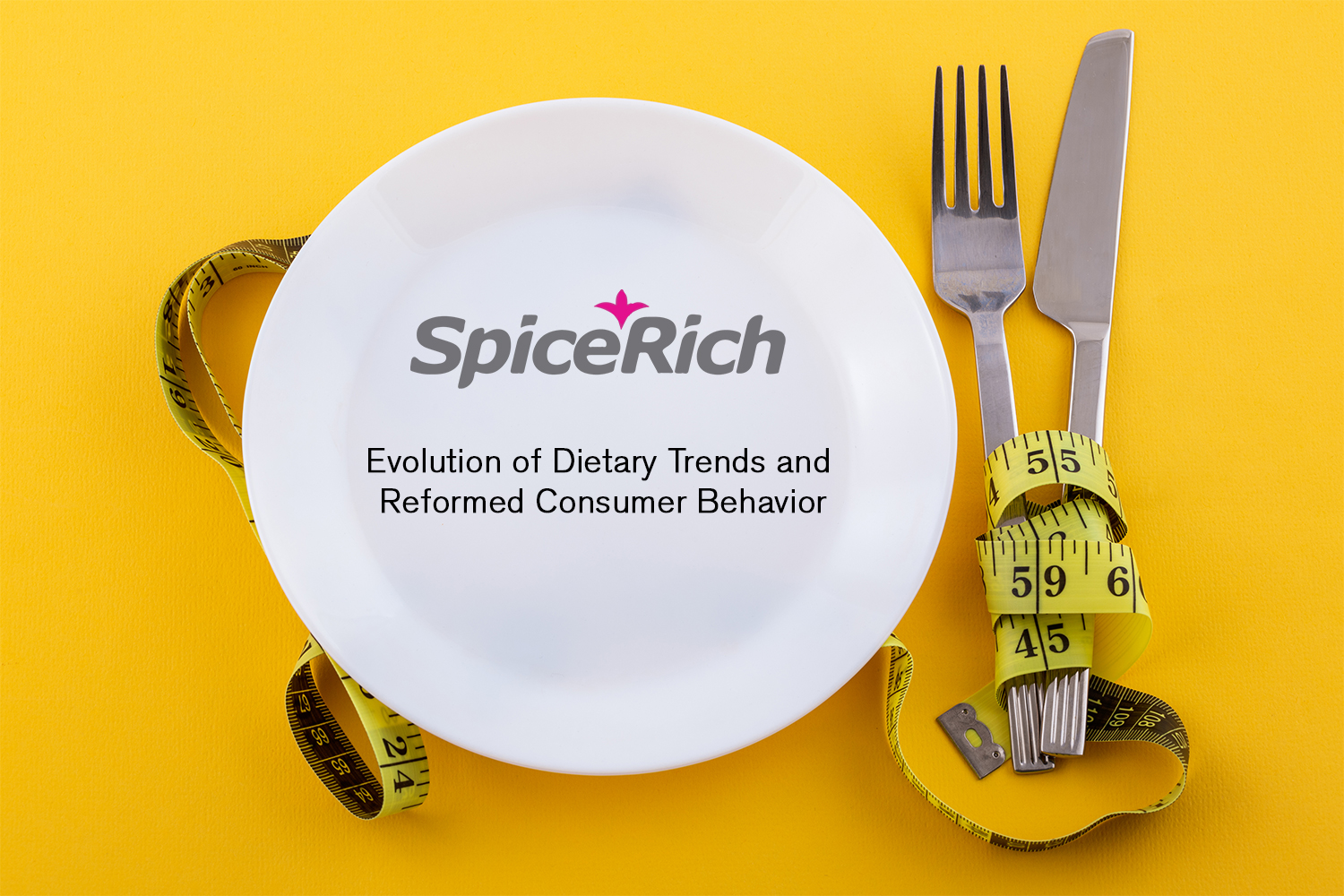 Evolution of Dietary Trends and Reformed Consumer Behavior
Over the past 50 years, food choices and eating habits have changed drastically worldwide. These changes are primarily the result of technological advancements and mainstream media. Rapid globalization and urbanization have resulted in the integration of the world into a single global farm. Thus, this led to massive changes in our diets and demand for nutrient consumption.
Nowadays, consumers worldwide prefer easy-to-prepare food products that are rich in nutrients. Suppliers and brands have expanded their area of expertise to cater to these preferences. Let's take a look at the evolution of food habits and the emergence of new dietary trends over time.
Shifts in Global Dietary Trends
In the past, we saw a trend of what we may call a 'nutrition transition'. Unhealthy eating habits surpassed healthy eating patterns worldwide. This led to a skewed shift in the nutrient intake of individuals globally. During poor economic times, diets were high in complex carbohydrates and low in fibre. When there were improvements in the economy, there was a widespread demand for the consumption of food items rich in fats and sugars.
Adding to this, globalization and rapid urbanization resulted in the westernization of eating habits worldwide. It led to the widespread consumption of highly processed fast foods. They are high in calories, sugars and saturated fat, and low in fibre and calcium than home-cooked foods.
Rise in Lifestyle Disorders
These international dietary trends were accompanied by the rise in the number of diet-related chronic diseases, predominantly obesity. Modern diets have had major impacts on health.
People put in a lot of effort in the prevention of these chronic diseases through diet and lifestyle. They began adopting better eating habits and hence, recovering into fitness.
Improved Eating Habits
Subsequently, health and wellness gained an upper hand over unhealthy lifestyles and food choices. Healthy eating relies heavily on the concept of 'simplicity'.
Finding its roots in plant-based dietary habits, clean eating became popular. It was marketed as a health-based trend primarily focussed on whole or unprocessed foods. Consequently, there was an increased demand for less processed products and shorter ingredient lists.
Consumers' Expectations
Consumers expect companies to produce foods and beverages that cater to the progressively nuanced attributes of health and wellness, ethics, and sustainability.
Additionally, it was observed that the consumers' demands for food attributes have changed. Instead of searching for labels such as 'sugar-free', 'fat-free', etc., consumers' expectations shifted to attributes related to health and wellness. They demanded 'all-natural' and 'organic' foods. However, the most in-demand foods are those with labels such as 'without artificial ingredients and preservatives'.
Environmental Sustainability and Localism
Ethical food markets, sustainability and localism have also become important factors in the new clean eating movement. Individuals are focussing on what they consume; from the source of the food to how it affects their body.
They are opting for corporations that employ environment-friendly and sustainable practices. In fact, most consumers are also eating more plant-based foods and reducing their meat consumption to lower their carbon footprints.
Demand for Honest Claims
Over the past, many diets have been in-trends. Most of which were very unnecessarily expensive and highly gimmicky. With the COVID-19 pandemic, people are tired of restrictive and unsustainable diets that yield no results. Not only do they prove to be strenuous and a waste of time, but they are also very environmentally and mentally degrading. There is now a rise in the demand for honest claims from producers by consumers. In fact, they are even willing to pay more for food products that deliver all the benefits they claim.
Transparency by Producers
Consumers, thus, want to look beyond the claims made by companies and understand the specifics of the food purchased. They are demanding complete transparency about the harvesting of ingredients, the formulation of food products and the practices involved.
Consumers' Demand for Healthy & Delectable Food Products
With the emergence of new diet trends in 2021, one demand has remained constant. The demand for products that are indulgent and delicious. This time, with high-quality ingredients and greater nutritional value outpacing their overly processed and nutritionally empty counterparts.
Covid-19 and Reformed Demands
The current COVID-19 situation has led to the starting of new dietary trends. They laid great emphasis on the effect of their eating habits on their physical health and mental wellbeing.
The latest 'Immune System Support' diet highlights the "importance of a balanced diet to maintain a strong immune system". Apart from 4-5 daily servings of fruits and vegetables, it also focuses on the consumption of superfoods. Thus, they want these products to have an increasingly wide range of benefits and greater nutritional value.
Taste Nature Through Technology
We need healthy eating habits complemented by flavourful food. In compliance with such changing consumer trends, many suppliers have evolved to meet the renewed food demands. Although dietary trends are constantly evolving and on the rise, simply conforming to them isn't enough.
At Akay, we have expanded our horizon to encompass all the spice-enriched seasonings under our subdivision of SpiceRich. This division includes a vast variety of Powder Seasonings and Liquid Spice Blends. These range from powdered to liquid seasonings that instantly enhance your meals without being heavy on customers' wallets and time.
So, let's embrace the new trends to make food habits healthy, safe and delectable, altogether with no compromise at all; with Spicerich!