Blog | 6-Sep-2021
Exploring the Diverse Applications of Spices: From Indian Kitchen To Global Market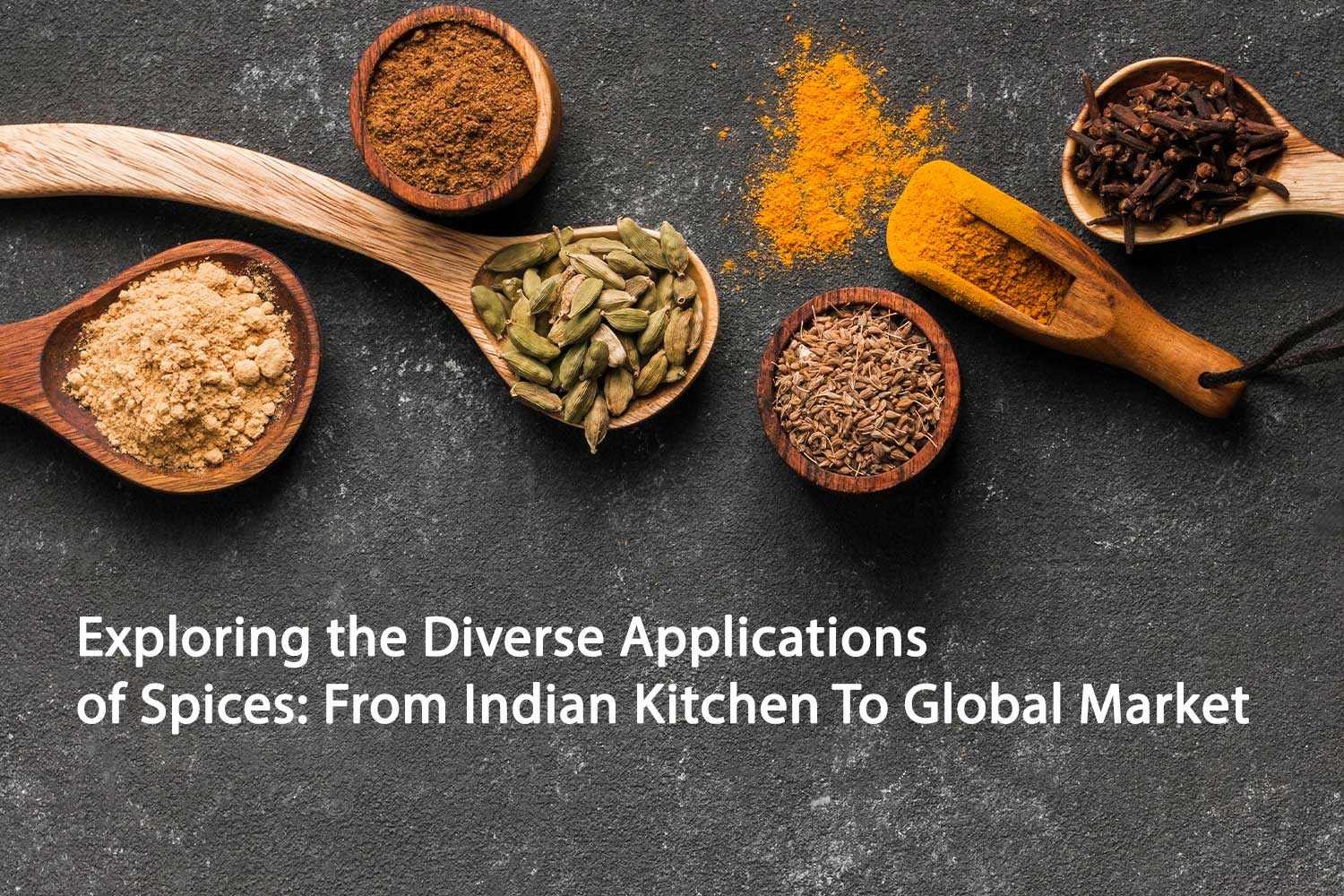 Exploring the Diverse Applications of Spices: From Indian Kitchen To Global Market
Spices are crucial ingredients found in every Indian household. They are used in flavourings, aromatics and colourings to enhance the taste and palatability of food. In fact, due to their antimicrobial and antifungal properties, they are also used as natural preservative agents to increase the shelf life of food.
Since Vedic times, spices and herbs have served the purpose of medicines too. They are full of antioxidants and phytochemicals. In view of such properties, spices have several uses in the cosmetic, perfumery and pharmaceutical industries. Processed spice products like oleoresins and spice oils are used widely in the perfumery industry.
Potential Application of Spices as Natural Preservatives
The risk of spoilage is a common issue in the food processing industry. Chemical Antioxidants like butylated hydroxytoluene (BHT) and butylated hydroxyanisole (BHA) prevent food spoilage. But when consumers raised safety concerns on such components and demanded natural alternatives, the potency in Indian spices was utilised.
The chemical components like cuminaldehyde, eugenol and cinnamaldehyde present in spices like cumin, clove, and cinnamon have antimicrobial and antioxidant properties. The antioxidant activity and phenolic levels are comparable to regular chemical antioxidants. Thus, they act as natural alternatives to synthetic preservatives.
Potential Application of Spices as Culinary Medicines
Using spices to enhance the flavour and incorporating them in meals has many benefits. The history of spices and their applications confirm that from biblical times to the modern-day, spices had a significant role in the global market. India is the largest producer of medicinal herbs and spices globally.
Spices reportedly exhibit a vast range of physiological and pharmacological properties. They can improve digestion, stimulate the secretion of saliva and reduce nausea and vomiting. These promote the protective effects of various chronic diseases. Rich in phytonutrients, they decrease damage to cells and fight inflammation.
Here are 6 Indian spices and their beneficial properties:
Turmeric
Turmeric provides a wide variety of health benefits as they are high in antioxidants, anti-inflammatory, antimutagenic, antimicrobial and anticancer properties. For centuries, it has been used as an anti-inflammatory agent to treat health issues such as gas, colic, toothaches, chest pains, and menstrual imbalance.
Moreover, it aids in the management of arthritis, anxiety, and hyperlipidemia. Also, it enhances the recovery and performance of athletes or sportspersons. Turmeric reduces exercise-induced inflammation and muscle soreness, thereby playing a crucial role in preventing tissue injury and swelling.
In the pharmaceutical industry, turmeric is one of the most well-known therapeutic spices. It can be used as a cancer prevention agent since it is hostile to tumours. It is antimicrobial and is used to counteract venom with the help of the antibodies it produces.
Clove
Clove is one of the richest sources of phenolic constituents such as eugenol and eugenol acetate. It contains eugenol that is the main constituent responsible for its medicinal properties.
The antioxidant and antimicrobial activities of cloves are much higher than many fruits, vegetables and other spices. In fact, a drop of clove oil is 400 times more potent as an antioxidant than wolfberries or blueberries. Thus, it possesses great potential in the pharmaceutical, cosmetic, food and agricultural industries.
Clove oil possesses antioxidant and anti-inflammatory properties as it contains flavonoids. They are also antifungal, antiviral, antimicrobial, antidiabetic, antithrombotic and insect repellent. Their anaesthetic and pain-relieving properties allow them to be used as analgesics to relieve toothache or gum soreness, especially in dental treatments. Additionally, clove oil relieves pain in the joints, muscles, or sinewy tissue, particularly rheumatoid arthritis.
Clove oil is also found in inhalers as it combats a cold or irritation in the respiratory tract. It also helps to counteract malignant growth and diabetic illnesses by controlling blood glucose levels.
Coriander
The seeds, leaves, flower and fruit of coriander possess antioxidant, diuretic, and antidiabetic properties. Being antimutagenic, it is hostile to cancerous growths and tumours. In addition, coriander is anthelmintic and anticonvulsant. Thus, it treats ailments such as heartburns, worms, pain and discomfort caused due to excessive stiffness.
This spice variety is also known for its carminative and diuretic properties. They are used to remediate gastrointestinal issues such as indigestion, bloating, loss of appetite and nausea. Dry coriander also provides relief to those with loose bowels and non-stop diarrhoea.
Besides, the antifungal and antimicrobial properties of coriander can be utilised to increases the shelf-life of foods. Thus, it is used in the food industry as a natural preservative. Seasoning meals using coriander adds impeccable flavour and delays food from going bad.
Fenugreek
In Indian kitchens, fenugreek is a flavour enhancer in most curries and sauces. This nutraceutical is an effective natural galactagogue. Fenugreek naturally increases lactation in breastfeeding women. Traditionally, it determines gastric aggravation such as upset stomach, constipation or inflammation of the stomach.
Fenugreek is antidiabetic and thus lowers blood glucose in prediabetes. It plays a central role in the prevention of type 2 diabetes mellitus. According to the study, fenugreek showed hypocholesterolemic effects and thus is effective in bringing down cholesterol levels.
Cumin
The antioxidants in cumin treat tooth pain and indigestion. Its essential oil is highly aromatic and antimicrobial. These properties make it vital for the food and pharmaceutical industry.
As they are stomachic and astringent, cumin seeds stimulate hunger as they increase craving and appetite. They are also used to relieve bloating using their carminative properties by preventing gas in the gastrointestinal tract and facilitating its expulsion.
Cinnamon
According to traditional Indian cuisines, cinnamon sticks add flavour to rice and meat curries. It is also a home remedy for many minor and acute health issues. It is antioxidant, anti-inflammatory, antidiabetic, and antimicrobial. The antioxidant and anti-inflammatory properties help in treating loose bowels and joint inflammation. It regulates different menstrual issues as it increases blood circulation in the uterus and advances tissue regeneration.
Cinnamon contains vital oils and derivatives, such as cinnamaldehyde, cinnamic acid, and cinnamate. It is used in lipid-lowering to reduce cholesterol levels and to lower cardiovascular disease compounds. In addition, cinnamon reportedly acts against neurological disorders, such as Parkinson's and Alzheimer's diseases.
Indian Spices & Streamlined Industrial Potency Spice Up the Global Market!
"In the ongoing pandemic situation, spices with immunity-boosting properties have been in great demand. Turmeric registered a remarkable growth of 42 per cent in quantity by shipping 99,000 tonnes globally valued at Rs 858.10 crore. A total of 23,700 tonnes of ginger was exported all over the world registering a growth of 86 per cent".
Indian spices are vital components in traditional medicines, home remedies, the cosmetic, pharmaceutical and even perfumery industries. They have garnered acceptance in the global market because of their aroma, taste and health benefits.
With the rise of clean eating and clean beauty trends, the global demand for spices and spice-enriched products has increased. In addition, the widespread implementation of sustainable and ethical organic farming practices throughout India resulted in greater demand for Indian spices. India is currently the largest producer, exporter and consumer of spices globally.
At Akay, we apply innovations backed by cutting-edge technology to years of research. We give you the most high-quality spices available in the Indian market. Explore the wide variety of aromatic spices at Natural Spices and establish your footing in the Indian spice market!