Blog | 25-Mar-2021
FENUMATTM Enhance Bioavailability Naturally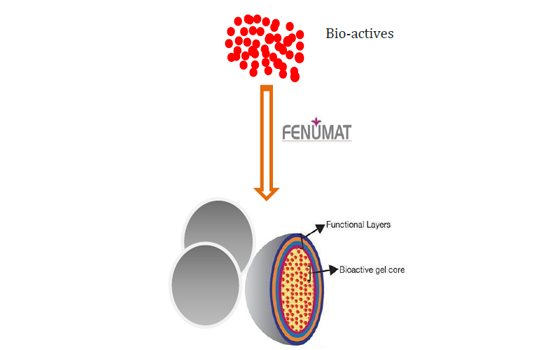 FENUMATTM Enhance Bioavailability Naturally
– An Innovative Green Approach in Oral Delivery
Recent upsurge on various health beneficial effects of phytonutrients derived from spices and herbs have created a huge demand for well-studied phytonutrient-rich extracts as potential health promoting or health guarding agents of nature. Though a number of such phytonutrients and micronutrients have shown to be effective in many pharmacological studies, the poor oral bioavailability often curtails their efficacy when supplemented for benefits against various disease states such as cardiovascular, neurodegenerative, metabolic disorders, obesity, and even cancer. So, there exist an increasing need for safe and cost effective delivery systems which can provide high levels of phytonutrients into the blood when taken orally. Most of the current methods are synthetic emulsifiers or polymer based nano particles which are using in medicines.
Here comes the significance and importance of FenuMATTM….as a Natural food grade way to enhance the bioavailability!, No synthetic agents or nanoparticles !!!
FENUMATTM is an innovative technology comprising a 'Green Approach' for the Oral Delivery of Phytonutrients. The method employs a patented formulation with a dietary fiber isolated from the popular kitchen spice, Fenugreek seeds. Fenugreek fiber is a safe prebiotic with blood sugar lowering, cholesterol lowering and gastrointestinal health agent. Gel-phase dispersion technology allows the formation of molecular solutions of phytonutrients in the amorphous and water soluble fiber matrix, by a "Water Only" process. Resulting 'FENU BEADS' provides a novel muco-adhesive microgels for safe oral delivery !
FENUMATTM –
• Food-grade & 100% Natural
• Patented WATER based process
• No synthetic emulsifiers/excipients
• A functional prebiotic mediated delivery
• Customized encapsulations of phytonutrients/vitamins/minerals
AKAY OFFER CUSTOMISED ENCAPSULTIONS WITH BETTER BIOAVAILABILITY