Blog | 6-Sep-2021
How Backward Integration is Imperative for the Growth of Agro-Business Ventures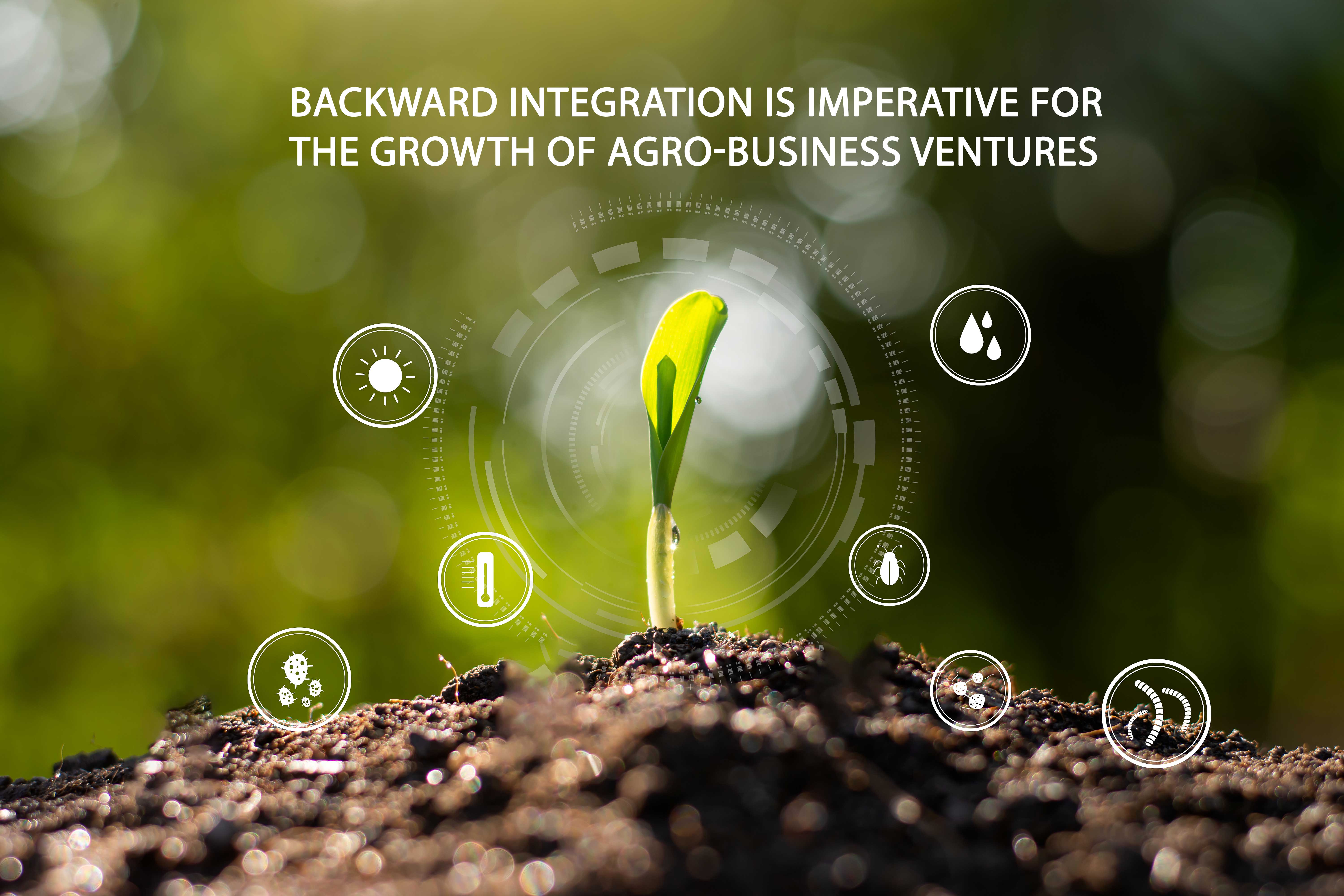 How Backward Integration is Imperative for the Growth of Agro-Business Ventures
Nowadays, consumers have more access to information, and there is a new wave of reformed consumer demands. They have laid greater focus on 'clean eating' dietary trends. There is a growing demand for innovative food formulations that are high in nutrient value. The trend in food processing has now expanded further to include consumers' mental and emotional wellbeing.
The paradigm shift in food consumption has resulted in consumers' demanding complete transparency from manufacturers. They are attempting to find manufacturers whose ethos and workings align with their definitions of 'trustworthy' and 'quality providers.
This has made customers keen to trace the origins of the food they consume. They want to assess the quality and safety of their food products to attain healthy lifestyles complemented by impeccable diets.
With the dawn of the digital era, it has become easier for us to access pre-made databases or invest time into collecting, processing, and presenting data to create databases. This widespread availability of information substantiated by numbers has empowered consumers to make informed choices.
In such a scenario, it becomes a matter of utmost importance to delve into the traceability of the manufactured food products. Traceability is the process of 'going back to the roots' and involves the backward integration of information.
Backward Integration: Identifying the Stages in Food Processing
Backward integration is a process wherein a company or a business tries to move backwards in the supply chain. This is done when it merges with other businesses or local producers. They supply the manufacturers with the raw materials required in the production process of their finished product. Thus, this becomes a great way for manufacturers to exercise greater control over the quality of the raw materials.
Engaging in backward integration practices helps implement sustainable agriculture standards. They are crucial in maintaining the continuity of future supplies for the manufacture of products. They are important to evaluate whether finished goods meet international quality standards and consumers' requirements. Such processes ensure traceability of the harvested crops from farm-to-fork.
Traceability or Going Back to the Roots
Simply said, traceability is the ability to track and have access to information on all the stages of production and processing that food products undergo. This makes it an excellent way to recognize potential entry points of risk and contamination in food. It can help identify possible allergens in the products and ensures that the finished products are fit for consumption. Following international hygiene protocols in the production, processing, and packing of spices is very important to reduce contamination.
Additionally, it reduces challenges faced by distributors such as overseas shipping declarations, international licenses and certifications. Employing a system of sustainable backward integration helps businesses stand out in the market and gain a competitive advantage.
Sustainable Backward Integration: Strategy for Efficient & Organic Production
Sustainability in product recall programs goes much beyond traceability and data integration. It also includes ensuring the economic viability of the agro-sector. Sustainable management of the production and supply chains forms the focal aspect of most business strategies.
Engaging in such practices allows extended control on the quality of raw materials and ingredients thereby, ensuring consistent quality. They make the production processes highly efficient and organic. Resultantly, this leads to long term cost-effectiveness of the products. Moreover, this allows manufacturers to maintain databases and provide access to a product's traceability, from the site of origin to the consumer's doorstep.
Traceability of Spices: Redefining Transparency in Agro-sector
For the agro-sector, traceability is more complex than it would seem, especially with spices. Agricultural products like spices and herbs have high chances of being contaminated. Since spices are natural ingredients that grow in natural environments, they have natural microflora that could include microorganisms considered human pathogens.
Untreated 'native' spices and herbs are known to contain high levels of bacteria and fungi, some of which are considered pathogenic to humans.
Since most of the production methods and processing of spices expose them to open and uncontrolled environments, contamination by microorganisms is natural.
However, in addition to natural contaminants, spices are also at the risk of heavy metal contamination. While some of them could be less harmful, chemicals and colouring agents found in them are known to be carcinogenic.
In such cases, traceability and backward integration become necessary. It allows us to be aware of the possibility of such contaminants and help us trace back our steps to identify their origins. Taking appropriate safety measures and remediation actions is necessary to reduce any risks of illness arising in consumers. The use of technology and digitization to carry out these processes has increased their efficiency.
Technology and Traceability
Rapid technological advancements have enabled manufacturers to ensure quality management. They have been able to provide access to the traceability of their products. This has been possible by meticulous stepwise integration of data from producers of all levels to the consumers throughout the value chains.
Backward integration programs provide training and learning opportunities for farmers on sustainable and ethical agricultural practices and product traceability. They allow manufacturers to establish healthy relationships with local farmers and efficiently manage their supply chain. This is crucial to maintain a steady supply of high-quality products.
Furthermore, creating and maintaining digital inventories allows manufacturers to monitor their raw materials and ingredients. Verification through auditing is a helpful tool in ensuring high-grade manufacturing practices.
Technology is vital in improving the overall efficiency of their production process and distribution operations. Such practises, in turn, help them in maintaining the integrity of the 'back to roots' chain to ensure complete transparency. They also equip consumers with detailed market intelligence thereby, empowering them to make well-informed decisions. Hence, backward integration programs become necessary for both the manufactures and the consumers.
Backward Integration Programs in Akay
We at Akay Spices produce chillies using contract farming. Doing this gives us first-hand control of the quality of produce harvested from independent producers. It is an attempt to enable our consumers with complete traceability. Also, this ensures that our product is at par with international safety standards.
We are also in control of a farm in Cambodia from where we harvest organic Black Pepper, Tumeric and Chilli. We've employed state-of-the-art agricultural and farming techniques such as RWH and Drip Irrigation to improve crop production.
Having direct supervision of the fields with farmers helps us guarantee high-grade quality and sanitation of our spice from the very beginning of the production chain. The products that we offer are sustainably sourced and traceable right up to the farm level. We have created sustainable livelihoods and established long-standing partnerships with the local farming community.
Why Invest In Traceability Projects?
Traceability strategies allow manufacturers to deliver high-grade, ethically and sustainably sourced spices. They can meet ever-evolving global demands and make them affordable at internationally competitive prices.
They also empower local farmers and corporations with knowledge and access to resources. This equips them with new techniques to increase their yield. Consequently, this allows them to increase their incomes and raise their standards of living. In this big picture, this contributes to the overall economy and growth of indigenous communities
Backward integration is a neoteric practice that allows businesses to modernize their production and supply. It enables them to expand their export potential and become global exporters. All of which will give them an edge in the international market and appeal to a wide range of customers.