Blog | 25-May-2021
Top 6 Indian Spices in Great Demand Amidst the Pandemic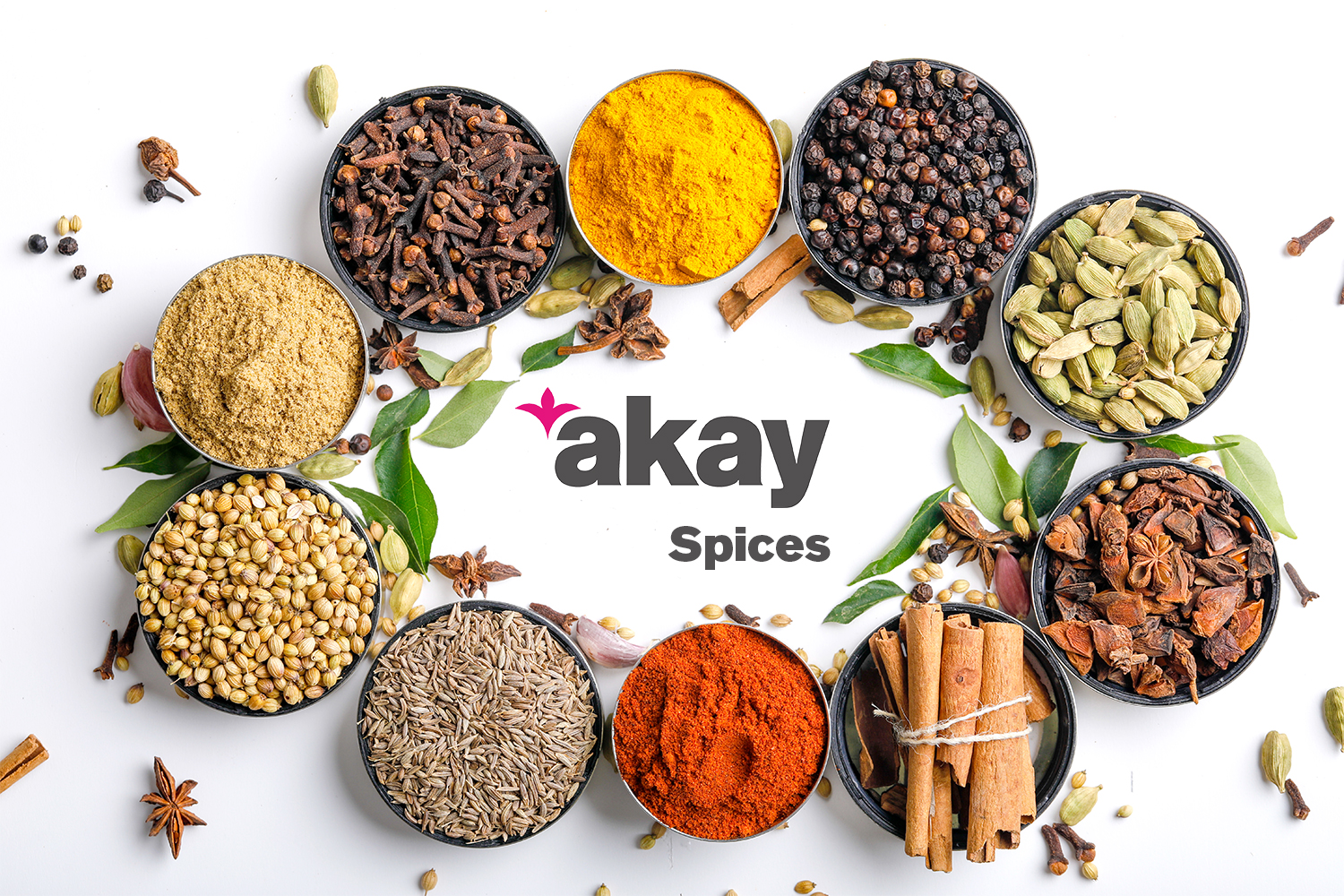 Top 6 Indian Spices in Great Demand Amidst the Pandemic
Indian spices have nourished the world market with flavour, colour and fragrance. A pinch of pepper, turmeric and the fragrance of cinnamon; aroma spices up every heart and stomach. Pure Indian spices have high demand in the global market. Even amidst the Covid waves, the food export industries across the country received huge orders for organic spices from overseas markets.
The ancient trade culture has garnered new momentum with technology-assisted manufacturing. On-demand supply of processed exotic herbs and spices manufactured through scientific technology helped the Indian exporters to distribute pure and aromatic spice derivatives across the world. And as per reports from the ministry, India witnessed a 34% increase in organic spices export.
Why Indian Spices Have High Demand Amidst the Covid Wave
Pandemic has nurtured a sudden demand for Indian spices in European and the US markets because of their health benefits. Most nutraceutical products have immunity-boosting properties, which make them ideal food ingredients.
India has a domestic market for spices. Tourism and global exposure have blurred the boundaries. Foreigners are now more inclined towards Indian Ayurvedic culture and cuisine. Tourism and global trade have amplified the export of ayurvedic spices and herbs to the overseas market. Moreover, adherence to Food & Safety rules and Rupee depreciation against US Dollars has also catered to the increase in foreign orders.
Top Indian Organic Spices in High Demand
Though there are market rivals like China and Vietnam, India has remained the dominant supplier of organic spices to the international market. Some of the spice varieties have found increased demand after the pandemic. Here are 6 Indian agri-varieties that have a high post-pandemic market value:
1. Turmeric
High-quality steam-sterilized turmeric enjoys sustained demand in the international market. The sudden flow of orders from the Middle East, the US, South Asia and Europe has increased the demand for turmeric amidst pandemic. Prospects and speculations suggest that in the upcoming years' turmeric market is going to witness an impressive demand due to its medicinal application.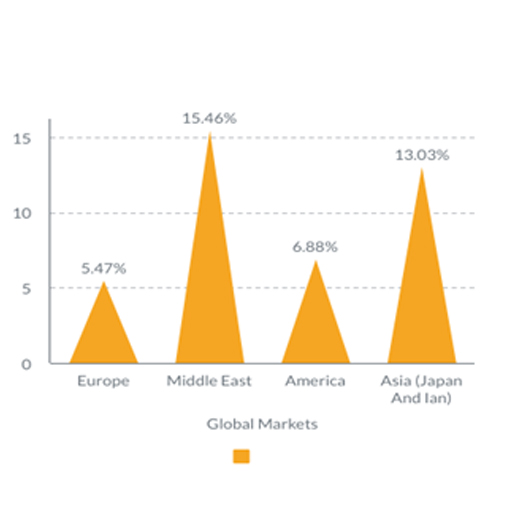 (Market share data as per 2020 report)
As per the statistics from the Ministry of Commerce and Industry, the demand for turmeric witnessed a sharp rise by 42% (99,000 tonnes) during the pandemic considering its immunity-boosting properties. Along with flavour and colour, studies suggest that the curcumin present in turmeric cures inflammation and many other diseases.
The best exporters in India have advanced technology to extract turmeric powder according to consumer needs. The Ayurvedic and Unani medicines have confirmed turmeric as a medicinal spice that keeps at bay deadly infections.
2. Cinnamon
The Indian Agri sector was one of the top exporters of cinnamon. The organic milled cinnamon is not just a food flavour. Its advanced usage in pharmaceuticals, liquor and cosmetics has necessitated an inflated demand for cinnamon in the international market.
87.7% of cinnamon is exported from Asia. And India has been ranked as the fastest-growing cinnamon exporters since 2015. Moreover, researches confirm that the global market is expected to witness a CAGR (Compound Annual Growth Rate) of 11.15% in the upcoming years.
Not all cinnamon is equal. The Ceylon variety found in Srilanka and the southern part of India is known for its high quality and texture. Compared with Cassia and other cinnamon varieties, the Ceylon variant can be consumed frequently for decreasing sugar level.
3. Black Pepper
Indian farmers and exporters were hit, seeing the international market flooding with low-quality pepper. But, foreign markets always have a high demand for organic Agri varieties from India, which are milled as per the customer requirements and conform to the global standards.
With its anti-inflammatory property and nutrifying flavour, pepper has an extensive appetite in the US and UK. From large restaurants to domestic households, black pepper is used as a common spice for seasoning the dishes.
Though the export of pepper decreased from 2015-2019, A study on trend analysis of spices export from India indicates that in 2020 the pepper export increased by 20%. And the new market forecast assures that the black pepper CAGR will see a 5% increase during 2021-2026.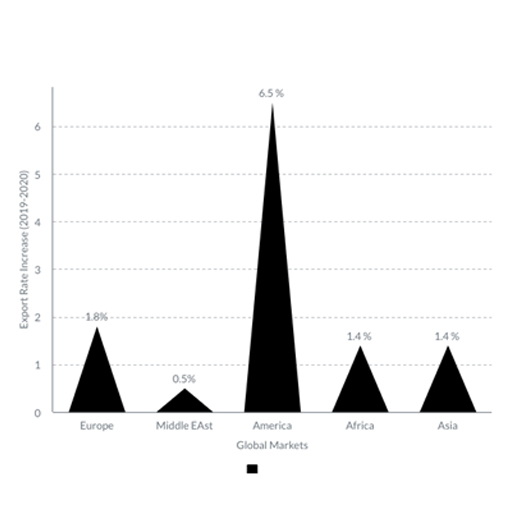 (Market share data as per 2020 report)
4. Ginger
The market for dried ginger in Europe and the US never fades. A study report by the Department of Biochemistry, Federal University, Nigeria, confirmed the natural relief mechanism in ginger. It is best to cure common contagious diseases and infections. The cleaning method and short term processing with steam technology preserve the active essence of ginger, meeting the global standard.
The sudden rush to hygiene and health demands a regular flow of organic and exotic Indian spices to foreign markets. Beverages and pharmaceutical products also make use of ginger as a supplement to cure sore throat, digestion and inflammation.
The USA, Morocco, Saudi Arabia, United Kingdom, Bangladesh are the top 5 countries that import ginger from India. In 2019, India was ranked top in ginger production (996, 041 Metric Tons) and export. And the ginger export to Bangladesh witnessed an increase of 47% amid the pandemic.
Comparing the data from 2016 to 2020, the market grew at a CAGR of 4.8%. In the upcoming years, Indian exporters forecast a 5.75% increase in the CAGR.
5. Clove
Clove is known to the world as a flavouring agent and a preservative. But recently, its medicinal usage as an expectorant has inflated its demand in the overseas supply market. Market prediction expects a huge increase (CAGR of 3.1%) in the clove market within 2026. In 2020, India exported clove worth $6.55 million to the global market. USA, UK, Germany, South Africa, Mexico, UAE, and Singapore are major buyers of Indian cloves.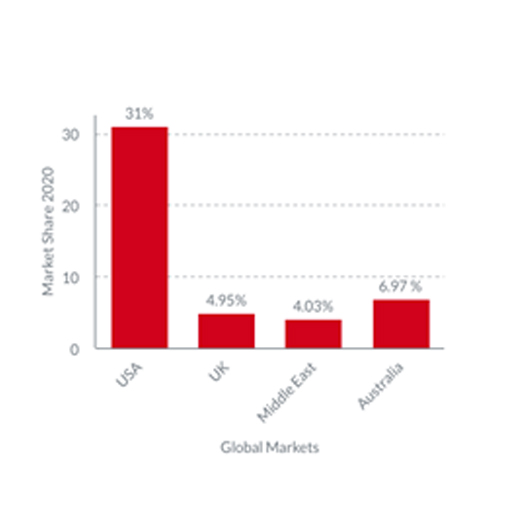 (Market share data as per 2020 report)
The foreign market prefers cloves from trusted sources as they can get easily contaminated with pathogen, yeast or moulds. Local processing is not just enough to meet global standards. Technology-assisted sterilization method is also needed to bring it to the global markets.
6. Red Chilli
In the fiscal year 2021, red chilli has been categorized as one of the most demanded and exported spices from India, with a shipment of 2,64,500 tonnes (Rs 3,605 crore). Research has proved that red chillies have medicinal properties that prevent gastrointestinal ailments, including dyspepsia, loss of appetite, gastroesophageal reflux disease and gastric ulcer.
Vietnam, Srilanka, Thailand, Bangladesh, and Indonesia are the major importers of Indian Red Chillies. Based on the 2020 prediction, the market in Vietnam, Thailand, and Malaysia will expect slight market growth. Besides, the chilli market in Sri Lanka and Bangladesh will showcase a stagnant market value with a slight decrease in overall export.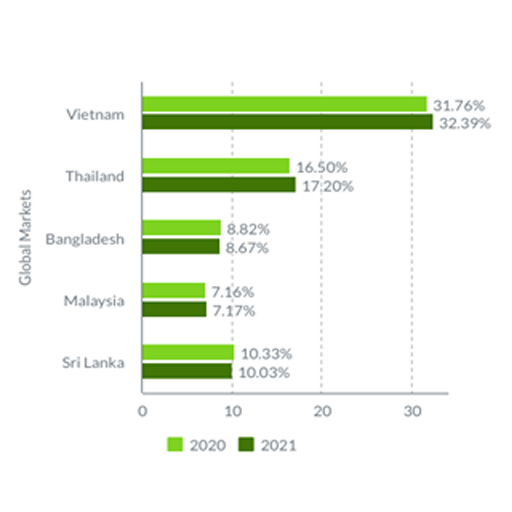 (Based on 2020-2021 market analysis)
How Indian Spice Exporters Make Success in Foreign Market?
India is known for its age-old legacy in cultivating spices. Indian exporters have found a unique stature by supplying quality materials extracted through the modern farming methodology and advanced sterilization technologies. While rivals stick to pesticides for enhanced production, the top exporters in India adapted to the natural approach by reducing pesticide usage and switching to organic Agri-cultivation.
The products that come out in the competitive market are tested
When the raw material reaches the manufacturing unit

When the work progresses

When it is finally extracted as per consumer demand
Commitment to Quality Shapes The Brand
Maintaining organic quality and the global standard is necessary for every exporter to flood the international supply market with high-quality Indian spices. Rivals from various parts of the world have filled the international market with culinary herbs and spices. But, Indian spices have always been in demand due to their exotic flavour and medicinal usage.
When it comes to cracking foreign markets, only trusted exporters have sustained for long in the chain. Advanced technology and scientifically proven methods are needed to facilitate quality spices.
When post-pandemic urgency for spices increased in the overseas market, Akay Group spiced up the consumers with quality agri-varieties that savoured taste buds, spread aroma and healed infections. With the assistance of the well-equipped R&D team, Akay Group has been catering to the preferences and demands of customers from various parts of the world.
References