Blog | 13-Sep-2021
World Alzheimer's Day 2021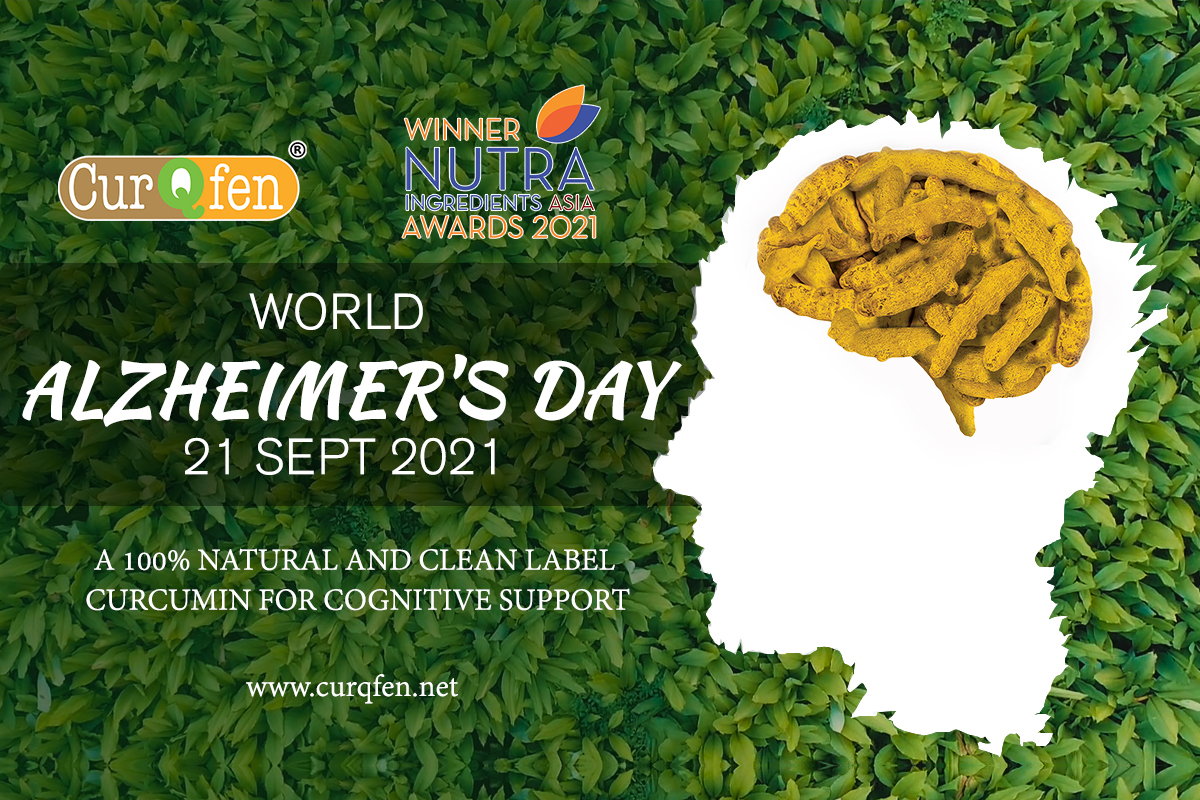 CurQfen® - Making the world a better place with a 100% natural and clean label innovative dietary solution for cognitive health
CurQfen® - Making the world a better place with a 100% natural and clean label innovative dietary solution for cognitive health.
In this fast-moving world, where everything changes so rapidly; adaptation and learning is inevitable. As we age, emotional disturbances and memory loss develop along with poor motor functions. The brain, like all other human organ experiences degenerative changes due to neuronal degradation which leads to difficulties in daily tasks. Such alterations in the brain are generally referred to as 'Neurodegeneration', which has been found to be closely associated with Neuroinflammation- an inflammation of the neurons due to various reasons including stress, infection, toxins, autoimmunity, aging or brain injury.
Dementia is identified as the most common brain dysfunction with high incidence and prevalence. As per WHO,
Around 50 million global dementia burden with 10 million new cases every year

Alzheimer's disease, the most common form of dementia contributes 60-70% of Dementia burden

In 2015, the total global societal cost of dementia was estimated to be USD 818 billion

Dementia is the 7th leading cause of death
Only 5 therapeutic drugs (donepezil, galantamine, rivastigmine, memantine and a combination of donepezil/memantine) have approved for the treatment of chronic neurodegenerative diseases. Moreover, all the major attempts in the last 15 years to develop more effective drugs with minimal side-effects have failed. So, the interest for safe, reliable, inexpensive and natural solutions for prevention, or for the delay of the progression of dementia is the need of the hour. But, the poor oral bioavailability of the bioactive forms of phytonutrients and their poor blood-brain-barrier (BBB) permeability remains as major challenge despite the promising in vitro anti-neurodegenerative and anti-neuroinflammatory effects of various phytonutrients.
Here comes the significance of Akay's CurQfen® with proven BBB-permeability and brain pharmacokinetics. Brain tissue distribution is considered as the 'litmus test' for the efficiency of a drug formulation for brain health. In the case of curcumin, only FREE (UNCONJUGATED) form is BBB-permeable. CurQfen® has established its FREE form bioavailability and further its brain tissue distribution and brain regional pharmacokinetics using the state-of-the-art 'tandem mass spectrometry-aided metabolomics research'.
The brain pharmacokinetics suggested the preferential distribution of curcumin in the 'hippocampus' of the brain – the complex region of the brain which controls learning and memory. The development efforts in the last 10 years, still continue to explore CurQfen's potential to mankind.
Key features of CurQfen®
A genius formulation of two popularly known GRAS spices, fenugreek & turmeric.

100% natural, food-grade and clean label

Allergen-free, Non-GMO & Vegan and ORGANIC

Patented 'GREEN' delivery technology without any synthetic excipients

45.5-fold free curcuminoids bioavailability & 270-fold total curcuminoids bioavailability (free + conjugated)

Low dosage of just 250 mg/day

Peer reviewed highly cited publications
We are proud to claim that CurQfen® is the only bio-available curcumin in the marketplace with ample scientific evidences for brain health, with BBB-permeability, brain pharmacokinetics, brain regional distribution and brain bioavailability data which are published in high impact, peer-reviewed academic journals with no 'open access fee'.
Formulators and Practioners loves CurQfen®, because CurQfen talks the pure science and innovation along with efficacy at low dosage; rather than putting "figures and numbers" as marketing gimmick.
Let's have a glimpse of the brain studies of CurQfen®
• Study published in Journal of Functional Foods, 2016 shows that CurQfen® provides 45.5X enhancement in 'free' curcuminoids (native curcuminoids complex consisting of curcumin, DMC & BDMC) bioavailability with improved pharmacokinetics at single dose of 250 mg. More than 70% of the absorbed curcumin exist in free form in plasma. CurQfen provides >350 ng/mL as 'free' form as compared to the unformulated standard Curcumin complex with 95%. That means, 250 mg of CurQfen can provide >100 nM of free form of curcuminoids in systemic circulation for its BBB-permeability and brain health. Previous studies have suggested 100 nM of free curcuminoids to elicit favorable brain functions.
The total curcuminoids bioavailability (free+conjugated) is 270-fold !. Just 250 mg of CurQfen is BIOEQUIVALENT to 1592 mg of standard Curcumin complex with 95%.
•Study published on Journal of Functional Foods, 2015 clearly demonstrated the enhanced Blood-Brain-Barrier (BBB) permeability and tissue distribution of CurQfen® following the oral administration.
•A recent study published in the Journal of Nutritional Neuroscience, 2021 clearly demonstarted the brain regional pharmacokinetics following the oral consumption. CurQfen® distributed significant amount of free curcuminoids in the brain, especially in hippocampus of rats when fed at just 100 mg/kg b.wt. The study could also correlate the positive effect of CurQfen® with Cognition, especially on locomotor activity and spatial memory errors.
•Another study which was published in the Journal of Nutritional Neuro Science, 2020 has shown that CurQfen® can modulate the brain waves positively as compared to the standard Curcuminoids 95% complex which produced no significant effect. There was an increase in the α and β waves and reduction in α/β ratio, indicating the activation of the frontal and hippocampal region of the brain for cognitive improvement.
•Study published on Journal of Clinical Psychopharmacology, 2016 indicated the benefit of CurQfen® on occupational stress, anxiety, fatigue and on endogeneous antioxidant levels. A significant betterment in the quality of life was observed for CurQfen® administered participants.
Randomised trials on Alzheimer's and Cognition- completed/going on.

Many animal studies on anti-neuroinflammation at mitochondria level.

Various human clinical trials on Heart, Liver and Joint health.
Having said this, now comes the most important question, the safety…! CurQfen® has been extensively studied and published (clinical and preclinical).
In a recent clinical study published in the Journal of Toxicology Reports, 2021 CurQfen® was studied for 90 days at 1000 mg/day, especially looking at the hepatotoxicity risks associated with CurQfen. In this prospective study, which is so far the biggest safety study for any bioavailable curcumin, CurQfen was found to be extremely safe. The paper has reviewed all the case reports of turmeric or curcumin supplements related toxicity issues and discussed their mechanism of action, contaminants etc in detail to provide a comprehensive report of curcumin toxicity to support global nutraceutical formulators and consumers, with authentic peer-reviewed information.